O n l i n e
Start Page
Clicks


If you want to spend minimal time at this page, and want the fastest, easiest way to make money online, this is it.You get paid 50 cents an hour, plus referrals!
Where I Show You How To Make Money Online!


O n l i n e
Get paid for being online! Do you realize how valuable you are to investors? They will pay you to spend time online. *A must for quick, easy money.*
StartPage
Get paid just to set this site as your start up page! You can't beat that!
Clicks
This is for the web masters, get paid for each click from your site. This is how I first got started in the online money business, however it is somewhat of a slow process.
BOOKS!
Learn new and unique ways to make money! Check out the links below
- CHOOSE A BOOK TO LEARN NEW WAYS OF MAKING MONEY!!











Welcome to Kushinator's Personal Guide to Making Money Online. I am here to show you how to make money online. All of these ways are garunteed to earn you money, while some work faster than others. Simply check out the links and you decide where to go.

When I tell you about making money for just being online... You may thinking its all a huge scam. I considered this. But during this past summer I received my first check, for $53.27 through the Microsoft Click Trade network. Receiving your first check will be one of the most motivating and satisfying things you will encounter from your online experience.

Why did I create a page like this? First off it's a general way for me to try to make some spare cash off the net, but also I am trying to publicize the MANY uses of the Net. Our world could be run so much more efficiently if more of it was conducted online. Making money online is just one of the vast new realms developing today.

Once you have signed up for AllAdvantage, GoToWorld, or ValuePay, email me with your account number so I can verifty you signed up and I'll tell you a way to get paid for surfing when you're not even at your computer. (Sorry but I can't say it on this page)



Look appealing? Click for more info.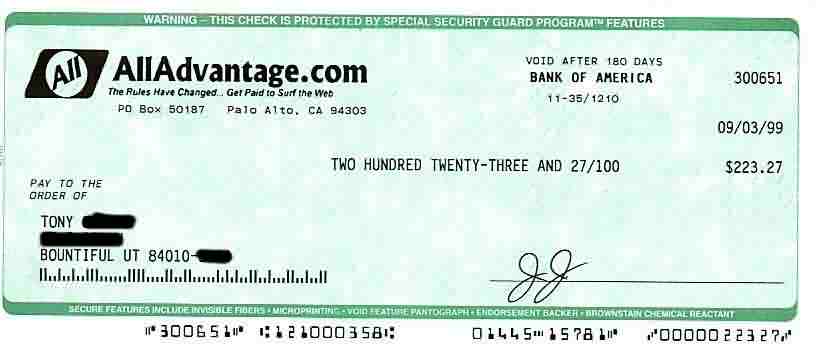 Check out something phenomenal that I just recently discovered! I WISH I would have found this sooner. It's IGNIFUGE.